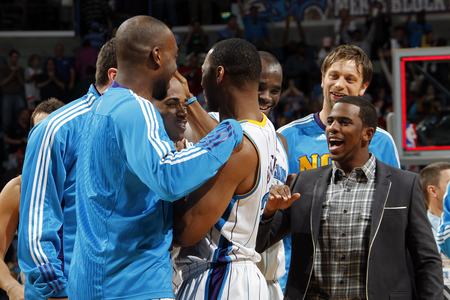 It's been a long season with many issues, events and drama. Personally there was always something that I was looking for to hang my hat on with this team. The Hornets were notorious for being so inconsistent. It never made sense just why they were so up and down, it really was more than frustrating to be so happy with the way they played, to so utterly disgusted.
I think though, looking back, that there was one attribute that stood out more than others. Such an attribute was toughness. Whether it was being overwhelmingly outmatched, having less talent, less momentum, not being their night, there was always something that would remain whether it be a fifteen point deficit or a one point lead.
The game that stands testiment, in my eyes, to just how tough this team really is, was the Dallas Maverick game where Chris Paul was sidelined and Jarrett Jack stood up to lead the team to victory. Every logical thought told you that there was no way that New Orleans was pulling this one out. This was further affirmed when the Hornets found themselves in a big hole with just over a minute to go.
Enter a miracle.
A Marco Belinelli three, Emeka Okafor layup, Tyson Chandler missed free throws, and Jarrett Jack made free throws pulled out what was and is the most improbable victory I have ever seen.
I received multiple text messages from friends saying just how amazed they were that New Orleans won that basketball game. It didn't matter if they were a Lakers fan, Celtics fan, Timberwolves or whatever, they were stunned.
That final sequence of toughness displayed just how close this roster was. Even though they possessed limited talent, they never wavered even if defeat was a more than likely outcome.
Moving forward it is likely that the roster will forgo some changes. There needs to be, but reflecting on just how resilient this team really was is necessary in order to weed out the unnecessary.
When most predicted the Hornets to never reach the playoffs, they did. When most predicted the Hornets to be swept by the Lakers, they did not.
If I were to narrow it down to the players I really think must be kept moving forward there are four that come to mind.
Chris Paul
David West
Jarrett Jack
Carl Landry
These players all exemplify the identity of what New Orleans is trying to build. No doubt Emeka Okafor and Trevor Ariza had their own part to play in transforming the team. But if you want to keep the core and consistent ideals of what it means to be resilient, then these four players display it on a nightly basis, whether it's a good game, or whether it's a bad one.
This season was fun for me, even if at times it was frustrating. The only reason that the wins were so high and the losses so low, was because it was to be extremities of victory and defeat. The Hornets, the coaching staff and the personnel department have to figure out a way to transform toughness into consistent success. While teams like the San Antonio Spurs possessed toughness over the years, they have meshed it with an array of talent.
It's no point having a tough player when he does jack squat on the floor.
Let the past be a lesson for the future. Identify your strength's and use them to identify your flaws. What a season it has been, I only hope you enjoyed it as much as I.
Tags: Carl Landry Chris Paul David West Emeka Okafor Jarrett Jack Marco Belinelli New Orleans Hornets