Pelicans Rumors: Lakers can't afford to lose Anthony Davis Sweepstakes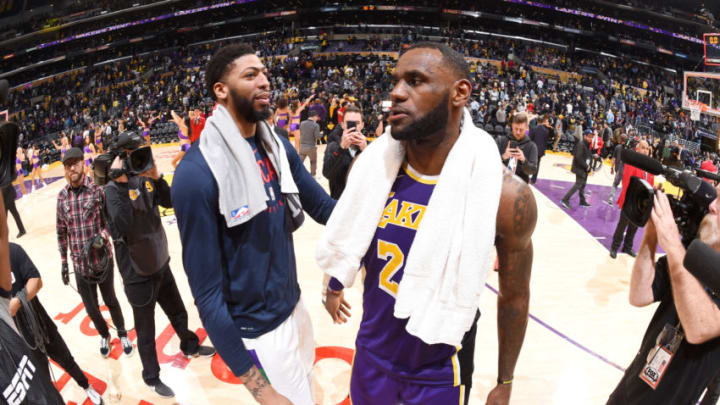 Anthony Davis, New Orleans Pelicans (Photo by Andrew D. Bernstein/NBAE via Getty Images) /
With New Orleans Pelicans rumors quickly gaining more steam, Anthony Davis is becoming increasingly likely to be a Laker. Los Angeles can't mess this up.
Ladies and gentlemen, it seems like we're finally approaching that day. You know, the one that months and months of New Orleans Pelicans rumors have slowly been building up to. David Griffin and the rest of the front office are actively shopping Anthony Davis, and the top two suitors so far, as expected, are the Los Angeles Lakers and Boston Celtics.
Through this entire process, Anthony Davis has seemed a little wishy-washy on how many teams are actually on his "list" of preferred destinations, but the Lakers have been a mainstay on his rankings of new teams literally the entire time. However (stop me if you've heard this before), to this point, LA is trying to lowball the New Orleans Pelicans because they think they have leverage in the situation since they're AD's top target.
More from Pelican Debrief
All David Griffin needs to do in order to remind the Lakers where leverage truly lies is utter the name "Paul George" into his phone whenever LA rings him up.
As a reminder, a similar situation in the league happened with PG-13 in the summer of 2017. George wanted out of Indiana and named the Lakers his top destination. The Lakers held off on offering a massive haul, confident they could just sign him in his impending free agency the following year, so Indy shipped him off to the Thunder.
Fast forward another summer, and Paul George re-signed in OKC following an entire year with his new team. In fact, PG did not even give the Lakers a meeting in free agency despite him being "hell-bent" on getting to Cali the year prior. More-so than anyone, LA should understand how players can change their minds from season to season. If someone else lands AD this summer, they'll have a full 82+ games to show him why he should stick around.
All of this just goes to show that the Lakers need to make a serious offer soon unless they want to repeat the Paul George situation once again. LeBron James is still under contract for at least two more full seasons, so the team's window to contend for a title is now. Despite LeBron's greatness, he's not getting any younger. If LA wants to capitalize on him being on their roster, they cannot dilly-dally.
So far, it looks like the Lakers are willing to give up Lonzo Ball, Brandon Ingram, and the #4 overall pick in the 2019 NBA Draft in exchange for Anthony Davis.
However, this is less than what LA was rumored to be willing to part with for AD back at the trade deadline in February. This offer won't cut it. Of every team rumored to be after Davis, the Lakers clearly have one of the best package of assets to offer up. The question is just about whether or not they'll actually budge off of some other pieces, such as Kyle Kuzma or future draft picks.
With how things are moving, it's possible that these New Orleans Pelicans rumors will turn into full-on facts in the next day or two. If and when Anthony Davis gets traded, we'll be sure you give you our thoughts here on Pelican Debrief.