Pelicans NBA Draft: 3 reasons to be excited about Herbert Jones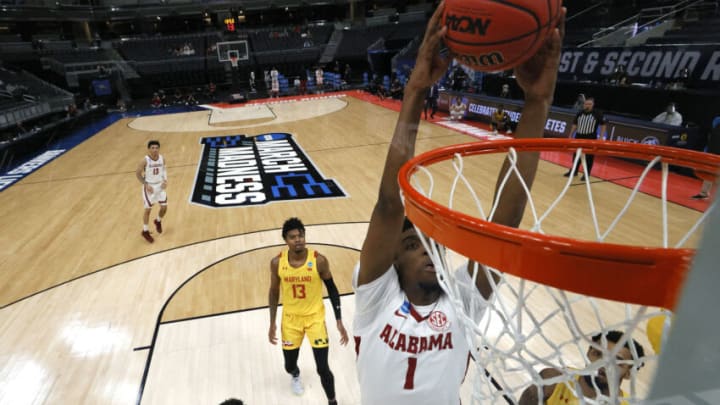 Herbert Jones #1 of the Alabama Crimson Tide (Photo by Sarah Stier/Getty Images) /
The New Orleans Pelicans chose Herbert Jones from Alabama with the 35th pick in the NBA Draft and he could end up being a steal.
Jones is a 6-foot-8 senior who is already 22-years-old, so he hopefully has the size and experience to help the Pels right away even though he was a second-round pick.
I thought Jones was a great pick in this range, especially after New Orleans already nabbed Trey Murphy III with the 17th pick, a guy who has the chance to thrive in New Orleans.
The Pels had some glaring holes heading into this offseason and may have addressed some of them with the addition of Murphy and Jones, who are the type of 3-and-D wings the Pelicans need around Zion Williamson and Brandon Ingram.
But there are other reasons to be excited about Herb Jones on the Pelicans.
New Orleans Pelicans: The Alabama connection
Herb Jones is the second player the Pelicans have taken from Alabama in as many years, joining Kira Lewis Jr., who was happy to see his former teammate.
https://twitter.com/kiralewisjr/status/1420952604423634945
Their familiarity with each other should lead to some instant chemistry if Jones can earn a roster spot and make the Pelicans' bench. Both players are hard nosed defenders and could give the Pels a much-improved bench defense.
New Orleans Pelicans: Herb Jones is a defender
We know the Pelicans need to improve their defense, which is why I was happy when they took Jones with the 35th pick, as he can get after it on that end.
Jones was not only the SEC Player of the Year but also took home the Defensive Player of the Year award after averaging 1.7 steals and 1.1 blocks per game in his senior season.
The SEC is a tough conference that is loaded with NBA talent, which makes Jones' accomplishments that much more impressive.
Herb Jones can cover a lot of ground for the Pelicans on defense
Jones is a versatile defender who can comfortably guard 1-4 against a lot of teams. He has great size for the position and will offer a nice complement to Brandon Ingram, who is not the best defender.
Jones and Trey Murphy III should be able to cover for these deficiencies at times and take on some of the tougher defensive assignments on the wing.
Jones doesn't have the highest ceiling as a prospect, but the one thing he does very well is something the Pelicans desperately need, so if he can make the roster he might be able to carve out a role for himself as a defensive specialist who knocks down the occasional 3-pointer.
He will also provide competition for Naji Marshall and Didi Louzada on the wing, which should make the Pelicans' training camp very interesting.