The New Orleans Pelicans are "going to be scary" next year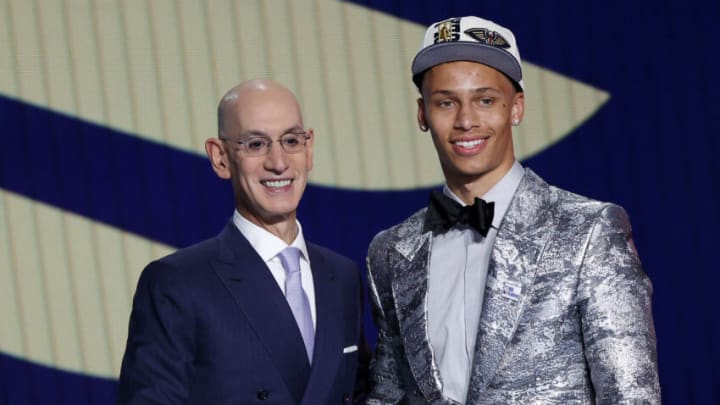 Dyson Daniels, New Orleans Pelicans (Photo by Sarah Stier/Getty Images) /
The New Orleans Pelicans just came off a playoff appearance without getting a single minute from Zion Williamson, who is expected to return at full strength next season.
They also added the 8th pick in the 2022 NBA Draft, point forward Dyson Daniels, whose defense and mindset will fit right into the culture Willie Green is trying to build.
But the offseason isn't over yet, as the Pels still have some shuffling to do, as they have too many players right now and will have to shake some things up to make room for Daniels on the depth chart.
Add a full season of CJ McCollum, and more development for Herbert Jones, Trey Murphy III and Jose Alvarado (among others) and you have the recipe for something special next season.
Dyson Daniels knows it, as the future rookie thinks he will fit right in on a team that is poised to be "scary" next season.
New Orleans Pelicans: Dyson Daniels and next season
Daniels talked about how he can help New Orleans in a recent interview with Sirius XM, highlighting some of the things he think he can bring to the Pelicans next season.
""I love to defend. I can defend one through four…and I like to make plays for my teammates…I hate losing, so will do whatever it takes to win.""
I think Daniels' attitude and perspective on defense and team are big reasons why the Pelicans chose him, as they are looking for tough, hard-working players who aren't afraid to mix it up on the defensive end.
The Pelicans already have three elite scorers, so surrounding them with guys like Daniels, who will do all of the little things to win and will buy-in defensively is a smart move.
Daniels went on to talk about the return of Zion Williamson and said that he thinks the New Orleans Pelicans are going to be "scary" next season. I have to agree, as this team is stacked from top to bottom and is going to have to end up making some tough roster decisions simply because they have too many good players.
Even though New Orleans had a losing record this season, the way they played down the stretch, coupled with the return of Zion and the new additions via the draft could easily propel them into the next tier, especially if we see growth from their young guys.
It's a great time to be a Pelicans' fan and there is already a buzz around this team that is only going to get louder as next season approaches.